The air source heat pump absorbs heat from outside air to heat your house and hot water. It can still work when the air temperature is as low as -15°C. This equipment acts as a chiller in summer and as a heat pump in other seasons. It is the most efficient and energy-efficient household and commercial refrigeration and heating equipment.
Compared with gas, oil or electric heaters, the operating cost of air source heat pumps is reduced by 60% to 80%, thereby saving energy costs every year and reducing harmful CO2 emissions.
Every 1kW of electric energy consumed will drive the device to generate 3-5kW of heat energy.
How does the air source heat pump work?
The heat in the air is absorbed as liquid at low temperatures. The fluid passes through the compressor to increase the temperature and transfer the higher temperature heat to the heating and hot water circuit of the house.
Air source heat pump features:
1. Power range: 14kW, 27kW, 41kW, 49kW and 95kW etc
2. The world-famous scroll compressor is highly efficient and stable.
3. R410a refrigerant, environmental protection, no ozone depletion
4. Intelligent controller and fast adjusting microprocessor can be adjusted.
5. PVC titanium alloy heat exchanger has sufficient corrosion resistance and is more durable.
6. With overheating protection, high pressure protection, high temperature protection, low pressure protection and other protection functions
7. Water heat exchanger: Circulating heating type is shell-and-tube type, directly tube type. Heating model.
8. Copper pipes with inner grooves can improve efficiency.
9. Four-way valve ensures reliable defrosting function
10. The initial investment is relatively low, easy to install and maintain
Heat Pump Key Componets: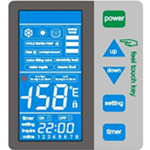 Smart control: microprocessor-based digital controller with LCD display digital controller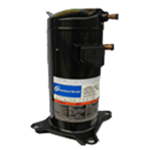 American Compressor: Copeland Scroll has high working efficiency.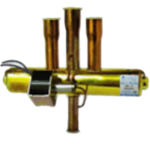 Japan Saginomiya four way control valve: No back flow and block.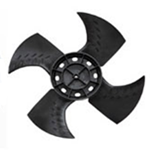 Axial Fans: high wind and low noise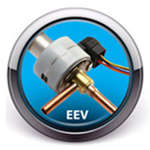 Eco-friendly Refrigerant: without ozone depletion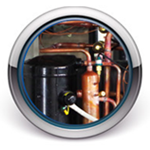 Silver welding: avoid refrigerant leakage
Warranty:
1. CE, CB, RoHS, Conform to EN14511-2:2011 test standard, ISO9001, ISO14001.
2. 2 years warranty
3. 1% spare parts are repaired free of charge.
Leomon Technology Service:
Leomon Technology provides customized services. We can design and produce Air Souce Heat Pumps according to customers' special requirements.
Air Source Heat Pumps Specifications:
Model

LM/3B

Rated heating capicity

11.4KW

Input power

2.57KW

Voltage

380V-50Hz


Rated output

water temperature

°C


Rated output

water quantity (L)

240L

Refrigeration

R410a

Control mode


intelligent control

touch control

Compressor Form

scroll

Compressor Quantity

1Pcs
Compressor Brand

internal rotor motor

Net size

719*719*944mm

Weight

94kg
Nosie level

54dB(A)

Fan

Form

ambient temperature

-10~43°C

Inlet pipe diameter

DN20

Outlet pipe diameter

DN20

Air Source Heat Pump Applications: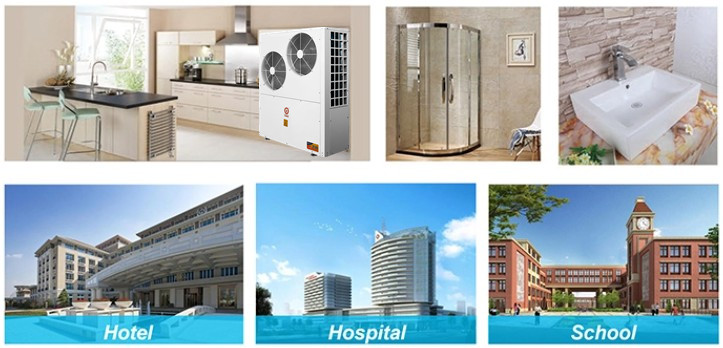 Air Source Heat Pump Installations:

Air Source Heat Pump Connection Diagram: