Air source heat pump is a good partner of Underfloor Heating. Underfloor Heating with Heat Pump means that the heat pump absorbs the heat energy in the air and heats the water to a temperature not higher than 60°C (usually 35-50°C). The hot water passes through the radiant Underfloor Heating pipe to transfer the heat to the ground to warm the house.
The Underfloor Heating Heat Pump is extremely efficient and has the potential to significantly reduce fuel costs, especially when the main gas is not accessible.

Air source heat pumps use renewable energy in the air. It will greatly reduce your carbon emissions. Combination of heat pump and floor heating. Heating in winter and cooling in summer. Let you enjoy the comfortable temperature throughout the year.

The advantages of combining radiant floor and air and water heat pump:
1. Radiant floor heating distributes the heat evenly in the entire room, and personal comfort is extremely high.
2. Radiant floor heating has less heat loss, the air is not dry, there is less dust, and the level of mites is lower.
3. The heat pump can provide not only hot water to radiant floor heating, but also hot water and cold water for daily use, and ground cooling in summer.
4. The heat pump only needs a small amount of electricity to drive the engine. The same hot water cost as the solar system-65-70% reduction.
5. The heat pump unit is generally installed outdoors, and the pipes are hidden in the floor, which is safe and does not occupy space.

Advantages of Underfloor Heating Heat Pump:
●Maximum outlet temperature of heat pump: 60℃
●Working environment temperature of heat pump: -10℃ to 45℃
●Heat pump heating capacity: 3.8KW-9.2KW
●Lower noise level: 42DB-45DB
●Refrigerant R410A: Does not deplete ozone
●Mitsubishi/Panasonic rotary compressor has high heating efficiency
●The heat pump can automatically defrost function
●Heat pump automatic multiple protection and failure
●The heat pump includes the built-in WILO water pump and Danfoss electronic expansion valve
●LED touch screen controller and digital remote control
●Underfloor Heating Heat Pump has automatic multiple protection
Heat Pump Key Componets: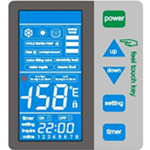 Smart control: microprocessor-based digital controller with LCD display digital controller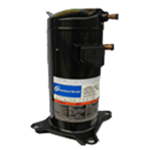 American Compressor: Copeland Scroll has high working efficiency.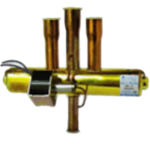 Japan Saginomiya four way control valve: No back flow and block.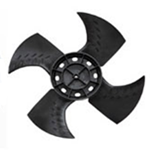 Axial Fans: high wind and low noise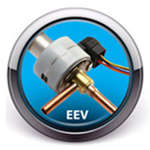 Eco-friendly Refrigerant: without ozone depletion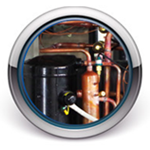 Silver welding: avoid refrigerant leakage
Warranty:
1. CE, CB, RoHS, Conform to EN14511-2:2011 test standard
2. 2 years warranty
3. 1% spare parts are repaired free of charge.

Leomon Technology can design and produce Underfloor Heating Heat Pump according to customers' special requirements.
Underfloor Heating Heat Pump Specifications:
| | |
| --- | --- |
| Model | LM-3.5 |
| Power supply | 220V~240V/50Hz/1ph |
| Refrigerant | R410A |
| Heating capacity | 3.8KW |
| Input power | 0.92KW |
| COP | 4.15 |
| Rated current | 4.6A |
| Max current | 6.2A |
| Max input power | 1.3KW |
| Fan motor power | 30W |
| Fan motor quantity | 1 Pcs |
| Condenser | Tube in shell heat exchanger |
| Water flow | 726L/h |
| Water rate | 82L/H |
| Water pressure drop | ≤15Kpa |
| Net weight | 40kg |
| Gross weight | 45KG |
| Noise | 42db |
| Classification of waterproof | IPX4 |
| Electric shock proof grade | I |
| Pipe size (internal thread) | DN20MM |
| Water pump | RS15-6WILO |
| Dimension | 970*300*550MM |
| Packing dimension | 1040*330*580MM |
| Compressor model/quantity | KN104VGMMC |
| Compressor | MITSUBISHI |
Rated Working Condition:dry-bulb temp: 20℃, wet-bulb temp: 15℃, cool water temp: 15℃, hot water temp:55 ℃.



Underfloor Heating Heat Pump Applications: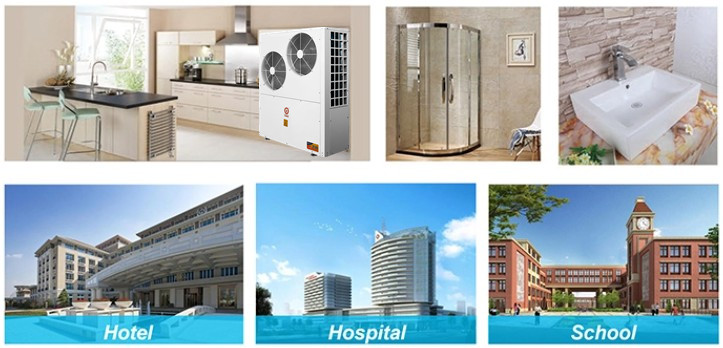 Underfloor Heating Heat Pump Installations:

Underfloor Heating Heat Pump Connection Diagram: