The CO2 heat pump uses heat from the air to heat the house or provide hot water. Carbon dioxide (R-744) is a very environmentally friendly refrigerant that can effectively help reduce greenhouse gas emissions.
The

R744

heat pump is an efficient and environmentally friendly heating system. 1kW of energy input can be converted to 3.9kW of heat output. Compared with heating systems that use electricity or natural gas, it can save 75% of the cost.
The CO₂ heat pump has a higher level of safety, because carbon dioxide (R-744) does not burn to reduce the risk of fire. And will not harm the environment
The unique ability of the R744 heat pump to generate 90°C hot water makes it suitable for various industrial, commercial and residential projects, including food processing plants, dairy products, shopping centers, apartments, hotels, restaurants, hospitals, elderly care, entertainment and education facilities .
The working principle of CO2 Heat Pump:
The R744 heat pump hot water system absorbs energy from the ambient atmosphere and converts it into heat. The ozone-friendly refrigerant (CO2) absorbs heat and then flows into the compressor where it is converted into high-temperature gas. Then it passes through the condenser in the water heat exchanger. The water is heated and then stored in the hot water tank for later use.
CO2 Heat Pump Features:
1. Power range: 14kW, 27kW, 41kW, 49kW, 95kW, 106kW, 155kW etc.
2. The world-renowned scroll compressor is highly efficient and stable.
3. CO₂ R-744 refrigerant, environmentally friendly, does not destroy ozone
4. Working environment range: -20℃~43℃
5. Intelligent controller and fast adjustment microprocessor can be adjusted.
6. PVC titanium alloy heat exchanger has sufficient corrosion resistance and more durable.
7. It has protection functions such as overheat protection, high pressure protection, high temperature protection, and low pressure protection.
8. Copper pipes with grooves inside can improve efficiency.
9. Four-way valve ensures reliable defrosting function
10. The initial investment is relatively low, easy to install and maintain
CO2 Heat Pump Specifications:
1. Service life: 20 years
2. The highest water temperature: 90℃
3. Rated voltage: 380V 3N-50HZ
4. Noise: <65 dB (A)
5. Anti-vibration level: I
6. Waterproof grade: IPV4
Heat Pump Key Componets: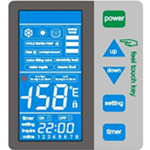 Smart control: microprocessor-based digital controller with LCD display digital controller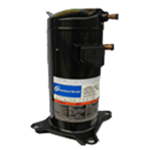 American Compressor: Copeland Scroll has high working efficiency.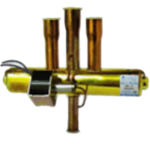 Japan Saginomiya four way control valve: No back flow and block.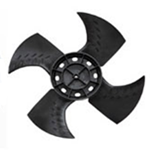 Axial Fans: high wind and low noise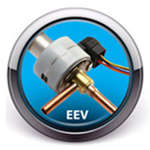 Eco-friendly R744 Refrigerant: without ozone depletion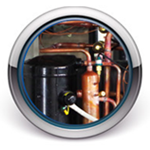 Silver welding: avoid refrigerant leakage
Warranty:
1. CE, CB, RoHS, Conform to EN14511-2:2011 test standard, ISO9001, ISO14001.
2. 2 years warranty
3.1% spare parts are repaired free of charge.
Leomon Technology Service:
Leomon Technology provides customized services. We can design and produce CO2 Heat Pump according to customers' special requirements.
CO2 Heat Pump Applications: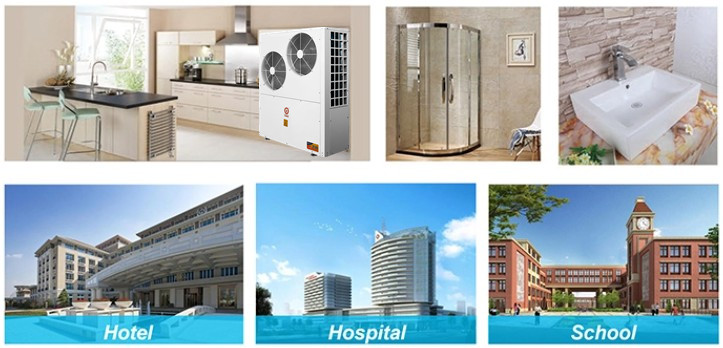 CO2 Heat Pump Installations:

CO2 Heat Pump Connection Diagram: