The air to water residential heat pump is an excellent energy-saving, environmentally friendly method of heating and hot water supply for homes. Residential heat pump has undeniable benefits, such as comfort, affordability, efficiency, cost saving and so on.
air to water residential heat pumps absorb heat from the outside air to work. When the air temperature is as low as -15°C, they can still extract heat. You can use it with confidence throughout the year.
Residential heat pumps can provide all the heating and cooling your home needs, and can save 60%-75% compared with traditional heating systems. The comfort of circulating heating has always been better than forced ventilation because it is cleaner, quieter, and more cost-effective to operate.
air to water residential heat pumps work by absorbing renewable resources in the air. It is extremely efficient, and it will effectively reduce your carbon emissions.
Air to Water Residential Heat Pump Specifications:
1.14kW, 27kW, 41kW, 49kW and 95kW.
2. Rated working conditions: Rated working conditions: dry bulb temperature: 20°C, wet bulb temperature: 15°C, cold water temperature: 15°C, hot water temperature: 55°C.
3. The highest water temperature: 65℃
4. Service life: 20 years
5. Noise: <65 dB (A)
6. Anti-vibration level: I
7. Waterproof grade: IPV4
Air to Water Residential Heat Pump Features:
1. EC fan motor, no noise
2. The world-famous scroll compressor is highly efficient and stable.
3. R410a refrigerant, environmental protection, no ozone depletion
4. The intelligent controller can be adjusted and the microprocessor can be adjusted quickly.
5. PVC titanium alloy heat exchanger has sufficient corrosion resistance and is more durable.
6. With overheating protection, high pressure protection, high temperature protection, low pressure protection and other protection functions
7. Water heat exchanger: Circulating heating type is shell-and-tube type and direct-tube type. Heating model.
8. Copper pipes with inner grooves can improve efficiency.
9. Four-way valve ensures reliable defrosting function
Warranty:
1. CE, CB, RoHS, Conform to EN14511-2:2011 test standard, ISO9001, ISO14001.
2. 2 years warranty
3.1% spare parts are repaired free of charge.
Air to Water Residential Heat Pump Applications: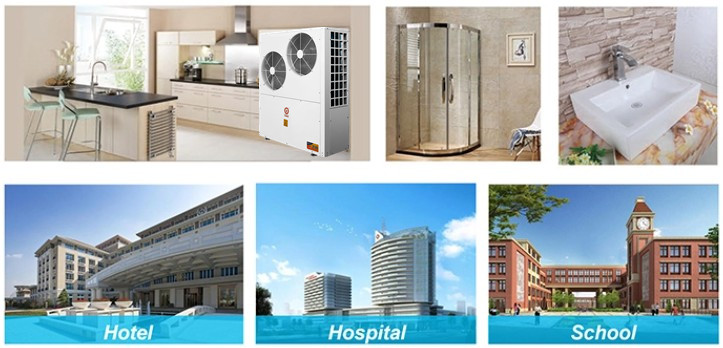 Air to Water Residential Heat Pump Installations:

Air to Water Residential Heat Pump Connection Diagram: