Domestic Hot Water Heat Pumps can provide independent hot water heating for your house. Free and unlimited heat from outside air is used in this device to heat drinking water and bathing hot water.This system is ideal for homes with or without a space heating system (radiator/heat pump convector).
Domestic hot water heat pumps are an ideal combination of heat pump technology and high-performance water storage tanks, and their power consumption is 3 times less than that of traditional water heaters. Users can also connect their solar energy to achieve the highest level of energy efficiency and considerable savings.

Domestic hot water heat pumps can dehumidify the installation location. In addition, the Domestic hot water heat pump can keep the installation site at an appropriate temperature, thereby creating an ideal climate for your wine cellar or utility room.
Classification of domestic hot water heat pumps:
Domestic hot water heat pump (C series: circulating heating)
C series domestic hot water pumps use shell-and-tube water heat exchangers. The price is affordable and saves electricity.

Domestic hot water heat pump (D series: direct heating)

The D series domestic hot water heat pump adopts an efficient tube-in-tube heat exchanger and uses variable flow control technology, which is very suitable for maintaining a constant water temperature in cold or hot climates. The direct heating heat pump can directly heat the water temperature to the set temperature, which can produce hot water faster. The rapid defrost technology enables the direct heating heat pump system to work normally in low temperature and humid environments.
Domestic Hot Water Heat Pumps Features:
1. Well-known brand scroll compressor
2. Efficient and environmentally friendly R134A or R417A refrigerant, no ozone depletion
3. Copper pipe with inner groove, higher efficiency
4. Intelligent control: with LCD display and digital remote control
5. Water temperature adjustment range: 25℃-60℃
6. Electronic expansion valve (EEV) is used for reliable and high-precision expansion
7. Shell-and-tube or in-tube water heat exchanger, the maximum working water pressure is up to 3.2Mpa
8. Low noise, will not disturb neighbors
9. Automatic sterilization to ensure water quality

10. It can be retrofitted to an existing geyser and used with solar geyser
Heat Pump Key Componets: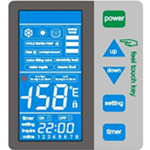 Smart control: microprocessor-based digital controller with LCD display digital controller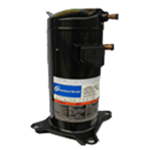 American Compressor: Copeland Scroll has high working efficiency.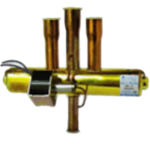 Japan Saginomiya four way control valve: No back flow and block.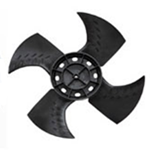 Axial Fans: high wind and low noise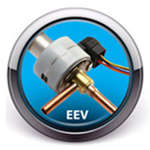 Eco-friendly Refrigerant: without ozone depletion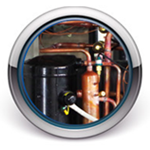 Silver welding: avoid refrigerant leakage
Heat Pumps Water Heater Warranty:
1. Heat Pumps have CE and RoHS certificates.
2. 2 years warranty for heat pump water heater
3. 1% spare parts are repaired free of charge.
Leomon Technology Service:
Leomon Technology provides customized services. We can design and produce heat pump water heaters according to customers' special requirements.
Here are the Specifications for Leomon All in One Heat Pump Water Heater Specifications.
| | |
| --- | --- |
| Model | LM-3.5D |
| Power Supply | 220-240/50/1V/Hz/Ph |
| Heating capacity | 3.5kW/Hr |
| Power consumption | 0.80kW/Hr. |
| COP | 4.39 |
| Current | 3.6A |
| Hot water production: 15/55℃ | 75L/hour |
| Suggested tank connection (capacity range) | 100-300Liter |
| Noise level | 52dB(A) |
| Inlet water temperature | 15℃ |
| Outlet water temperature | 55℃ |
| Maximum outlet water temp | 60℃ |
| Ambient temp. range | -5~43 ℃ |
| Controller | l Micro processor based digital wire controller with LCD display |
| Compressor Type | Rotary |
| Compressor Qty | 1 Pcs |
| Compressor Refrigerant | R134A,R417A |
| Heat exchanger Type | High efficiency tube-in-shell |
| Heat exchanger Qty | 1Pcs |
| Heat exchanger Construction Material | Tube: Copper, Shell: Steel |
| FanType | Axial |
| Fan Airflow | 1800m³/h |
| Fan Dia x Qty | 400mm x Nos. |
| Fan Material | Plastic |
| Motor Output Power | 25Watts |
| Motor RPM | 850 |
| Motor Qty | 1Pcs |
| Heat exchanger Type | Fin-tube |
| Heat exchanger Tube dia | Ф9.52 mm |
| Heat exchanger Row | |
| Built-in water pump Type | Centrifugal |
| Built-in water pump flow rate | 0.08-0.6m³/h |
| Built-in water Maximum pressure head | 0.4meter |
| Built-in water Insulation Class | IP42 |
| Water Connection Inlet | 3/4″ Inch |
| Water Connection Outlet | 3/4″Inch |
| Dimmension: W×H×D Net | 930*280*580mm |
| Dimmension: W×H×D Shipping | 990*340*660mm |
| Weight Net | 40kg |
| Shipping | 45kg |
| Loading Qty 20'/40'/40'HQ | 117/246/328Set(s) |
Domestic Hot Water Heat Pumps Applications: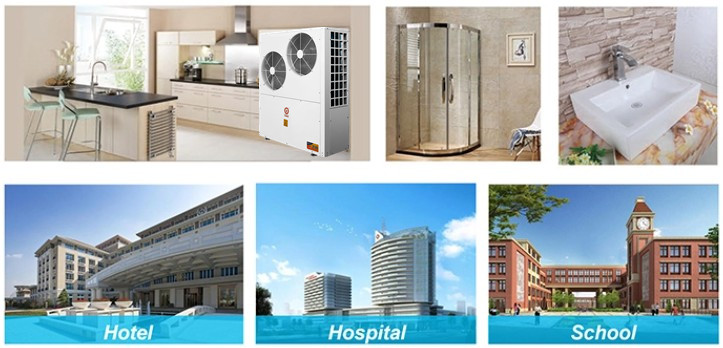 Domestic Hot Water Heat Pumps Installations: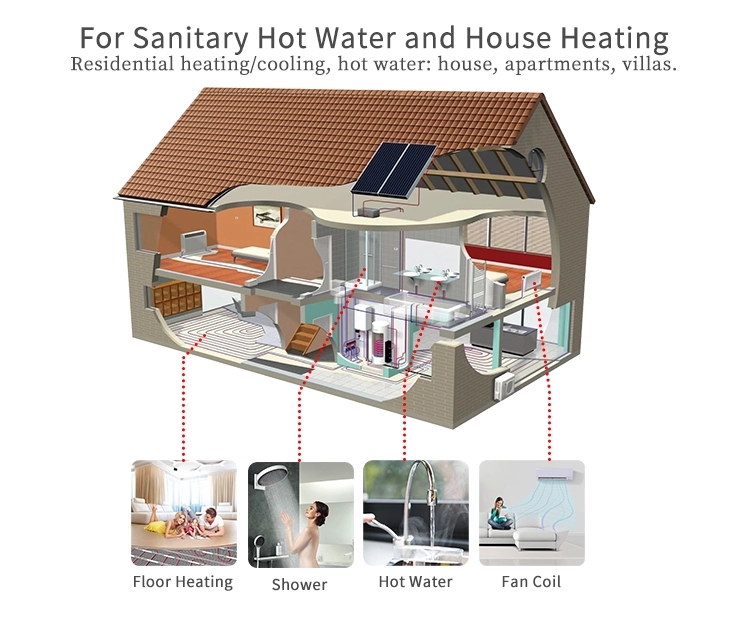 Domestic Hot Water Heat Pumps Connection Diagram: